Discover more from The Ruffian
Ian Leslie picks out the most important, interesting and beautiful signals from the noise.
Over 18,000 subscribers
I can hear so much in your sighs
This week: the importance of leaving the office, the puzzle of Boris's pessimism, and why Trump didn't start a nuclear war.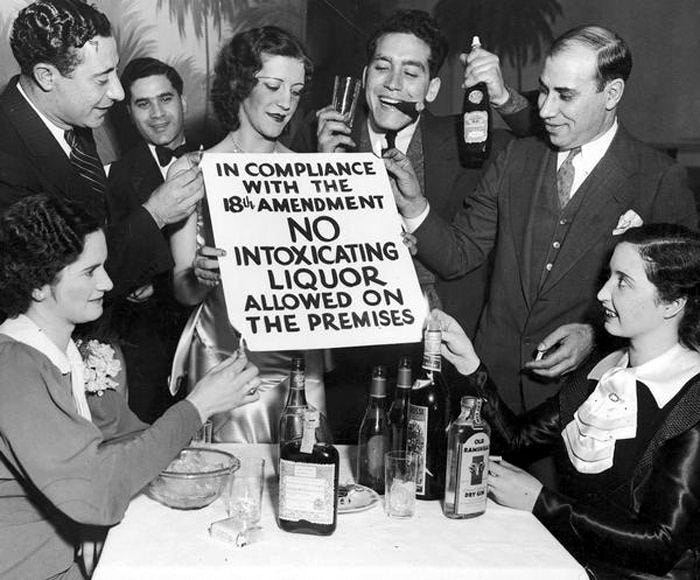 OUT OF OFFICE
If you run a business, one reason to want your people back in the office is that unless they're at the office they can't leave the office. When colleagues go out for lunch or a post-work drink they are often at their most productive. Many new ideas start out as napkin sketches made in diners and bars. In social spaces people have more wide-ranging chats and bump into contacts from beyond their immediate circle, gaining exposure to new thinking. Economists have long suspected "informal social networks" to be important to innovation but have found it hard to quantify their effects. Michael Andrews, of the National Bureau of Economic Research, has come up with a really ingenious way to do so. He has studied the effects of Prohibition on the rate of new invention. America's ban on alcohol during the 1920s represented a massive disruption of informal social networks. The saloon, like the coffee house in England during the eighteenth century, was a 'third space' where individuals came together to exchange information and ideas. When those social hubs were taken away, the networks went with them. Prior to Prohibition - a national policy - some states and counties were 'wet' and others 'dry', so Andrews is able to compare how Prohibition affected the rate of invention in counties that were previously wet with those that were consistently dry. What he found is that after Prohibition, previously wet counties had 8-18% fewer patents per year relative to consistently dry counties. When the alcohol dried up, so did the ideas. Actually, it wasn't the alcohol, it was the saloons - states that were 'bone dry', ie that banned the purchase of alcohol altogether, actually saw marginally less decline than those that did not. The rate of patenting by women declined by less than men, again indicating that this was a social phenomenon rather than a chemical one - women did their drinking at home, while men dominated the saloons. Andrews found that patents started going up again after a period, as people found ways to rebuild their social networks in new ways (today's equivalent being the way people are leaning more on online conversations, which we discussed last time). Do read the paper itself, it's well written and contains fascinating social history. (Oh and there's another reason we miss the post-work pub trip - that's where the gossip happens.)
BORIS THE PESSIMIST
The oddest aspect of Boris Johnson's public remarks on the crisis is his pessimism about vaccines. I find it genuinely puzzling, for two reasons. First, he is Mr Optimism, the Moonshot guy, that's his whole thing - yet on this, he is, not just not optimistic, but objectively over-pessimistic. He says that a vaccine may never be found, which is highly unlikely. There are currently 48 vaccines in clinical trials with a dozen at the most advanced stage. Even given myriad uncertainties over manufacture and distribution it's probable the UK will have at least one vaccine up and running by the middle of 2021 and possibly well before that. Johnson supports his pessimism by saying we didn't find a vaccine for Sars. We didn't find one for Sars because when that virus went away, vaccine funding stopped with it. Scientists are not starting from scratch with coronaviruses - the reason the Oxford team has moved so fast is that they're adapting a candidate vaccine they made for Mers. Secondly, if you support tighter restrictions, it is politically logical to be a vaccine optimist - otherwise you're raising the prospect of infinite lockdown. While there may be some risk in Johnson in telling the country that things will be very different come the Spring, the greater risk is looking like he doesn't have a clue how this thing ends.
MISCELLANY
If you're enjoying The Ruffian, please spread the word! It really makes a difference when you recommend this newsletter to others. Always include this link: http://ianleslie.substack.com

Also - make sure your spam filters recognise The Ruffian as a friend. Check your Promotions tab or spam folder and mark our email address as "not spam" or add it to your contact list.
DON AND KIM
One of the interesting things about Trump's presidency is the gap between rhetoric and policy. He has often moved more cautiously than you'd guess from the way he talks (if only because he hates actually governing). In 2017, when he was talking about raining down fire and fury on North Korea, it seemed as if we were on the brink of nuclear war. But, as this fascinating interview with a former intelligence officer makes clear, we were never anywhere near a Cuban Missile crisis because the US did not actually take tangible actions, like military strikes, to escalate the situation. Trump's rhetoric was wild but beneath the crazed tweeting a calmer conversation was going on that might even have reached fruition in 2019, at the Hanoi summit. The US went there with a proposition that was actually a good deal for Kim, who should have taken it but didn't, something he may now regret. So - Trump didn't succeed here, but neither have previous presidents, and he got further than most. What he got right, in his blundery way, is that North Korea needs to feel that the US is willing to go to war. Otherwise it will carry on developing - and testing - ever more sophisticated nuclear weapons. However you look at the problem, it's wickedly tough to solve. Obama considered it the biggest foreign policy challenge faced by the US. It still is.
DON'T TALK
I came across this mesmerising clip from the studio sessions for The Beach Boys' Pet Sounds album via an interview with the lead singer of the Fleet Foxes, who got obsessed by it when he was younger. I also enjoyed a clip from a documentary on Brian Wilson, presented by George Martin. The best bit is towards the end, at the mixing desk, when Wilson suddenly realises that Martin has casually produced a version of God Only Knows which is better than the original.

This is the last full edition of the Ruffian before the election (yes I think Biden will win, yes I thought Clinton would win last time). However, next week, in a special edition, I'll be introducing my new book - not out until February but it's never too early. So - this week it would be even more helpful than usual to spread the word about The Ruffian…